What is a Metal Roof?
There are several different types of metal roofing systems, and the one that you choose for your commercial application will depend on several various factors since each kind of metal roof has its advantages and disadvantages. Generally speaking, the benefit which applies to all metal roofing systems is that they tend to last much longer than other types of roofing. That's a simple by-product of the material itself since most metals are highly resistant to weathering and other external factors. Below are listed some of the most common types of metal used in roofing systems, as well as the advantages of each.
Our metal roofing systems come with a five-year guarantee.

Steel is one of the most popular metals used in roofing and all phases of construction. While it takes a great deal of energy to process steel, compared to metal like zinc, the fact that steel is so recyclable means that most steel in use today was made from recycled material instead of from newly manufactured steel. It is probably one of the most recycled materials in use around the globe, which means it may be the greenest option of all. Compared to other metal roofing systems, steel is probably the least expensive and priced much lower than copper, zinc, or aluminum. Having this kind of availability and this kind of pricing appeal makes steel one of the most popular options for metal roofing systems.
Copper roofing has been used for hundreds of years because it can withstand up to 200 years of weathering. Copper can be completely recyclable, so it's also an appealing green option. Since copper is a relatively soft metal, it can be dented by hailstones, but even that can be a positive thing, since other types of metal roofing systems may be punctured rather than dented. When using a copper roofing system, it is necessary to choose the proper panels and shingles, because copper contracts and expands along with changes in temperature.
Many installations along the coasts favor aluminum roofing because it has tremendous resistance to corrosion from the salty sea air, compared to other types of metal roofing systems. Part of the reason for this is that the outer layer of an aluminum roofing system reacts very quickly to atmospheric conditions, creating an aluminum oxide layer which effectively seals the inner layers against corrosion. While aluminum roofing can be an expensive option, it does have this great protective quality against corrosion. In general, the cost of aluminum is somewhere between copper and steel, and that prompts manufacturers to issue it in thicknesses which allow for conservation and lower cost. Aluminum also has a very high strength-to-weight ratio, even higher than steel, so if it is used with the proper thickness, it can provide considerable protection against all external factors.
Our Metal roofing systems come with a five-year guarantee.
The natural properties of zinc allow it to be an effective roofing solution which can last for more than 100 years, and it easily forms into desired widths and lengths. Since zinc also has a lower melting point than most other metals, it's straightforward to process zinc when manufacturing metal roofing systems. Only one-quarter of the energy used to work with copper or steel is necessary when processing zinc. This metal is also 100% recyclable, which means it's a very green option, and it's also generally available in practically all areas. Zinc tends to be relatively expensive, in the same neighborhood as copper roofing systems and must be installed by a roofing expert to realize its material advantages. A soft metal very much like copper, zinc can be damaged by hail, and strong winds, so proper installation is a must.
Metal Roofing Standards from SQI
If you are considering having a metal roofing system installed at your place of business, or large multi-resident complex, we'd be glad to answer any questions you may have about or provide you with a quote for a project you have in mind.
Contact us at SQI Inc., so we can help you make the decision which best fits your company's circumstances. We have helped many companies in the Puget Sound area with their roofing installations and re-designs, and we'd love to help you too. We have come to be known as the most reliable and reputable roofing contractors in the entire area around Seattle, Bellevue, Kirkland, and Everett because we believe that customer service is just as valuable as our technical expertise.
With every client we help, we make a point of extending the best possible service so that 100% customer satisfaction is the norm for each of our customers. Contact us today with any inquiries you may have about roofing systems, or to obtain a quote for a specific roofing project you have in mind.
When considering the purchase of a new roofing system, a review of two separate warranties is essential. There is a manufacturer's warranty on the products used to create the specific roofing system. This warranty will cover any defects in the manufacture of the roof membrane. You can review the entire NRCA's consumer advisory bulletin addressing roofing warranties for helpful information. Upon project completion, your contractor should provide you with a certificate for your records.
Also, your roofing contractor will provide you with a warranty covering the labor and installation of the roofing system. This warranty will include what is covered and what is not. SQI Roofing offers a five-year warranty on all roofing installations in addition to the manufacturer's warranty.

Click the button below to fill out our form. We will contact you to learn about your project. When we've come to an agreement, we move to step two. 
With state-of-the-art technology and processes, our expert team will complete all the work necessary to install your new roof. 
After all necessary cleanup and inspection, you have the peace of mind of owning a brand-new roof that we stand behind and guarantee.
A Commercial Roofing Company You Can Rely On
We Proudly Provide the Following Services
We work with major developers and architects to provide the high quality roofing new and reconstruction projects need. We have the experience necessary to provide realistic estimates and time-frames for large scale jobs.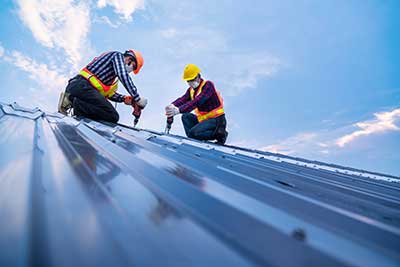 At SQI, our 24-hour emergency service ensures prompt assistance for all leaks and damages. See why people count on us for comprehensive maintenance, repairs, roof cleanings, and complimentary inspections.
We are long-time licensed roof applicators forCarlisle SynTec, Versico, Soprema, Firestone, GAF, AEP Span and Bryer. These key industry leading manufactures provide the highest quality roof replacement materials.