SBS (Styrene Butadiene Styrene)
What is a SBS Roof?
Modified bitumen is asphalt or tar, which has various enhancers included, which give it properties more akin to rubber or plastic. SBS is a synthetic rubber which are added to bitumen to provide it with many of the characteristics of rubber, and this can be very useful in a roofing system. Styrene Butadiene Styrene (SBS) modified bitumen roofing systems are those which include a family of synthetic rubbers that are derived from styrene and butadiene.
When blended with bitumen, SBS is a thermoplastic elastomer which ages exceptionally well, and which carries a very high level of abrasion resistance. This long-lasting aging makes it ideal for staying flexible even in the coldest environments since it will retain its elastic properties in the coldest of temperatures. Even after being stretched, Styrene Butadiene Styrene roofing material will maintain its original shape, and that makes it ideal for usage in bitumen roofing, as well as in paving applications, or sealants and coatings.
Our SBS roofing systems are installed with highest quality products available.

Characteristics of SBS roofing systems
There are several different reinforcements used in tandem with Styrene Butadiene Styrene roofing systems. For example, fiberglass, polyester mats and scrims, or some combination of these two. Fiberglass mats can weigh between 1 and 2.5 pounds per hundred square feet, or between 50 to 125 g/m². Polyester reinforcements have a weight range between 3.5 and 5 pounds per hundred square feet, or from 170 to 250 g/m². The specific kind of reinforcement which are used will always depend on performance requirements of the material. When applying Styrene Butadiene Styrene modified bitumen membranes, they can be either torch-applied, cold-process applied, or hot-asphalt applied, which means there are several choices for application.
Benefits of SBS roofing systems
There are several substantial advantages to using an SBS bitumen roofing membrane, starting with the fact that it's extremely strong, highly resistant to abrasion, and it retains its original shape even after it has been expanded or stretched. In addition to that, it's compatible with all commercial flat roofs currently being used. It has a flexible waterproofing membrane which allows it to accommodate any motion a building might undergo.
It resists mechanical damage and punctures exceptionally well, and if you have a high-traffic type of system installed, SBS bitumen is reinforced to accommodate high-traffic situations. It has excellent adhesive properties to flat roof substrate layers, and it is highly weather resistant even during extremes of temperature. It can also manage freezing and thawing cycles well without sustaining any damage.
Styrene Butadiene Styrene modified bitumen roofing material is commercially available in factory-produced rolls to achieve reliable quality control, and so installation can be done much more quickly. It's a very versatile roofing material which can be applied as a single layer overlay to strengthen any roofing system currently in place, and it can also be used as part of a built-up roofing system to provide long-lasting protection for any commercial building.
Our SBS roofing systems are installed with highest quality products available.
A Styrene Butadiene Styrene thermoplastic elastomer roofing system can be expected to have a long life expectancy, primarily because of its extraordinary elasticity and flexibility. The synthetic rubber composition contributes a great deal to this elasticity, and stretching capabilities. This long life expectancy is one of the reasons why it is such a popular choice as a flat roof solution for many commercial applications. It has a high degree of stability because of the high-quality SBS copolymer bitumen blend, as well as the intense level of reinforcement. 
Even when an SBS bitumen membrane reaches the end of its service life, it can be prolonged by installing a single layer over the current system, to increase its longevity.
SBS modified bitumen roofing from SQI Inc.
If your commercial business could use a Styrene Butadiene Styrene thermoplastic elastomer roofing system installed, we'd like to hear from you at SQI Inc. We have helped many companies in the Puget Sound area with their roofing installations and re-designs, and we'd love to help you too. We have come to be known as the most reliable and reputable roofing contractors in the entire area around Seattle, Bellevue, Kirkland, and Everett because we believe that customer service is just as valuable as our technical expertise.
With every client we help, we make a point of extending the best possible service so that 100% customer satisfaction is the norm for each of our customers. Contact us today with any inquiries you may have about SBS roofing systems, or to obtain a quote for a specific roofing project you have in mind.
When considering the purchase of a new roofing system, a review of two separate warranties is essential. There is a manufacturer's warranty on the products used to create the specific roofing system. This warranty will cover any defects in the manufacture of the roof membrane. You can review the entire NRCA's consumer advisory bulletin addressing roofing warranties for helpful information. Upon project completion, your contractor should provide you with a certificate for your records.
Also, your roofing contractor will provide you with a warranty covering the labor and installation of the roofing system. This warranty will include what is covered and what is not. SQI Roofing offers a five-year warranty on all roofing installations in addition to the manufacturer's warranty.

Click the button below to fill out our form. We will contact you to learn about your project. When we've come to an agreement, we move to step two. 
With state-of-the-art technology and processes, our expert team will complete all the work necessary to install your new roof. 
After all necessary cleanup and inspection, you have the peace of mind of owning a brand-new roof that we stand behind and guarantee.
A Commercial Roofing Company You Can Rely On
We Proudly Provide the Following Services
We work with major developers and architects to provide the high quality roofing new and reconstruction projects need. We have the experience necessary to provide realistic estimates and time-frames for large scale jobs.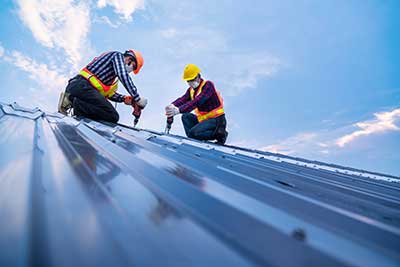 At SQI, our 24-hour emergency service ensures prompt assistance for all leaks and damages. See why people count on us for comprehensive maintenance, repairs, roof cleanings, and complimentary inspections.
We are long-time licensed roof applicators forCarlisle SynTec, Versico, Soprema, Firestone, GAF, AEP Span and Bryer. These key industry leading manufactures provide the highest quality roof replacement materials.